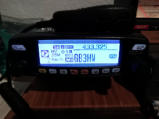 Ok so I won't sit here and pretend I know all that there is about propagation, as
with the rest of this site I put information out there that I think can help others,
the same with my YouTube channel at
https://www.youtube.com/channel/UCJWda3DWvCKJ01V_ZIdhe1g if I have
anything I can help people with or I do something that others may not have
thought of I will add it. anyway enough transgression for now.
As I am sure you all know we are just starting out on Solar Cycle 25, or are we?
Who knows? We had some pretty good Sunspots and Solar Flux levels a few
weeks ago, then back to zero, I'll say one thing for it, it's pretty challenging to
try to figure it out. Back on the 29th November 2020 there was 67 SN and 110
on the SFI, today as I type this we stand at 64 SN and 123 SFI (14th March
2022). Getting better, quite often into triple Solar Flux figures these days



The weather here on Earth is also a major factor for propagation (Or should I
call it Tropogation?).
Certain times of the year we get what is called Tropospheric Ducting in area's
of High pressure, not always but quite often and if your signal gets caught
within that duct it has the possibility of travelling a whole lot further.
There are a couple of excellent tools you can use to tell you where (and
sometimes when) these ducts will be around, okay so it doesn't always work
out but hey, what does? I have added links to these online tools below
I was standing on Dover White Cliffs once using a Baofeng UV5R, you know
the one, the radio a lot of people love to hate, and I was talking clearly to
someone driving along in Holland, Okay not major but for a little handie that
only pushes out 3.5W (well my one does) both our audio's were 5-9
I have also worked Germany from my house near London on 5W on VHF and
considering when I had CB the furthest my signal went was about 5 miles.
Check out TX Factor Episode 13 and watch the interview with Jim Bacon
(above his explanation of Sporadic E is excellent and really does give a greater
understanding of what goes on.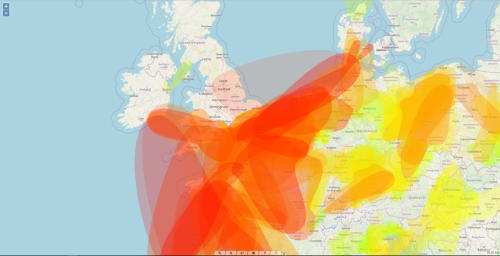 I
magine sitting at home with an AM/FM radio that usually does upto
around 100 miles and that's when you're allowed upto 50W of power as an
intermediate licence holder.
As a Foundation Licence holder is only allowed upto 10W of power you
may think "I'm not going to get very far on that am I" well let me tell you,
that's where Tropospheric Ducting comes in to play. Under certain
conditions you can get a layering in the atmosphere that can form an
invisible duct, your transmissions can get caught in that duct and before
you know it you're talking to someone in Germany, Holland, Denmark,
France, Belgium and possibly many others. I was talking to someone
driving along in Germany and I was using just 5W of power, yes that's right
just 5W.
Who needs the Internet?
There are a couple of Tropo prediction web pages and these are listed
below, obviously these are just predictions, the best thing you can do is
take your radio out or use a home based radio with a good antenna and
put a call out. I call on 145.500MHz and have programmed many European
repeaters.
If you want to know more about Tropospheric Ducting and Sporadic-E
watch the video above (TX Factor - Episode 13) you'll find it extremely
informative. Jim Bacon explains things very well,
One of the best repeaters to add to your memories is the Dutch PI2NOS
repeater, Listen on 430.125MHz and transmit on
431.725MHz yes that's
an offset of +1.6MHz (
Please Note, do NOT transmit within 100KM
of London Charing Cross
)
I have heard that Dutch repeater many many times and it is the best way
of knowing when tropo is in play
Take a look at Voacap Click Here
Or Take a look at Proppy Click Here
Well in case you hadn't noticed things are improving, we have had a few
days where we have seen many sunspots and a reasonable SFI, all of this
will continue to get better (He Hopes) as we get further down the line, so
keep checking those propagation charts. Today as I type this propagation as
it stands is
SN 64, SFI 123, K Ind2, A Ind 40.
Not particularly brilliant to say
the least but it's a step in the right direction after so long with no
propagation at all to speak of.
As you are aware, the sunspot number is rising at quite a steady rate,
prediction sites are okay but the real way to see hat is out there is to get
active and start calling out.
We're all here for the same reason, we all like to make as many contacts as
we can so if someone is calling CQ just go back to them, if you don't hear
anyone on there try calling CQ for yourself, you never know who will come
back to you. If everyone thought the same and sat there waiting to hear
something an active band may seem dead when it is actually the opposite.
I myself have talked across Europe when the sunspots were Zero and
Solar Flux at 71 so it can happen.
Propagation is on the up so at the moment anything is possible, it's only
when we get on the air we find out what is possible. Don't just look at the
charts, be active and see for yourself from your own location.