I
n August 2019 things are going to get a little crazy
with the introduction of the new syllabus for the
Foundation, Intermediate and Advanced licences.
There are several changes being made at each level,
for the better? Well that remains to be seen I guess,
however I just have a feeling that it won't encourage
prospective amateurs into the hobby.
Obviously this is just my honest opinion but I must say
that I have seen changes like this in other things and it
starts to hinder and NOT help. A bit of advice for now
though, Get in as quickly as you can. Register soon for
the Essex Ham Online Foundation Course, see website
as there are just two courses left, one at the beginning
of May and one at the beginning of June then there will
be a break to allow for reworking of the said new
syllabus

.

Events like these are helpful too. For Essex
Ham the Langdon Hills ARC in Basildon
have their Progression evening once a
month which Essex Ham attend regularly.
Also Essex Skills Evening in Danbury run by
Chelmsford ARS have some good
information and perform many practical's
that you would need for your foundation.
Give these a try, if you have the amateur
radio interest then you cannot go wrong.
Everything you need to know regarding
the foundation licence is printed within
this book, I say book but its more like a
pamphlet, it's not too thick but every
page is relevant. It's presently priced at
£10.99 at Amazon. (Not exactly cheap)
If you wish to sit your foundation
licence exam before August this is the
book for you.
After August we go onto the new
syllabus and you would need to buy
the updated Foundation Licence book
and as soon as that guide comes out I
will post it right here

.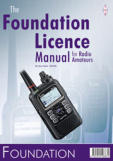 Established in 1954 RAIBC is a national
society and charity, dedicated to supporting
Radio Amateurs and shortwave listeners with
disabilities. These people are there if you
have a disability so give them a call or look
them up on the internet.
The RAIBC has a a free helpline: 0800 028
8660 or visit their website: www.raibc.org.uk