Thinking about taking your UK Amateur Radio Licence?
If you are, great, foundation is certainly an underestimated level in many
respects, yes it is a stepping stone to the full licence, but it is also quite
possible to talk around the world with just 10W as I have done so myself.
I must admit I like to take my handheld out on days that have
tropospheric ducting (More about that on the Propagation page)
Try the Essex Ham Foundation online course Here






Welcome
to the homepage of Terry 2E0IPK,I became interested in Amateur
Radio about 49 years ago when I was around 14 and was given a Shortwave
Radio, I took it to work when I was a messenger in London and listened to mainly
Amateur stuff rather than commercial and as a fan ever since. At the age of 59 I
decided it was time to get licenced, especially as at this time they had dropped
Morse Code from the test. So February 23
rd
2017 I passed my Foundation and
November 18
th
2017 I passed my Intermediate Licence. Plan to take the
advanced? Yes, but certainly not yet, I had an enormous headache whilst taking
the Intermediate.
Ok, so I have purchased a 20M end fed half wave antenna, it's really
not working that well at the moment to be honest, possibly due to
the fact I haven't connected it up yet, but I am looking at doing this
very soon. Heard so much about these antenna's and know they
work really well, not sure how it will perform as a sloper, have to
wait and see but here's hoping.
Keep the faith, propagation has started to improve so hopefully we
can all start working some DX soon
Do Not Use 431-432 MHz if you are transmitting within 100 KM of Charing Cross,
London. (within the circle on the map to the left)
This is included within the band plan for the UK and is also covered in the foundation
licence.
Where I often go is just outside that area, however I still wouldn't use more than 10W
output power (My choice) especially if there's a tropo lift on.
Foundation licence holders please be aware of this information Thankyou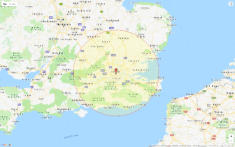 IPK London is a personal site, any software downloaded from here can be used but at your own
risk. I accept no responsibility for any misfortune you may have.
ELECRAFT

look like they've hit on another winner with the
new K4 which will hopefully be available within the first
quarter of 2020. Direct Sampling and built in Panadapter.
this radio looks awesome , probably costly but possibly
worth every penny. See the W&S video with Eric right Here
Eric gave a good talk on this radio, recommend you watch
sometime, he really knows his product.
***
What is going on out there? Icom 7610, Kenwood 990S, Yaesu FT-DX 101D and now Elecraft K4, what a choice we have these days, got to say I am a Yaesu guy but that K4 looks great.
I will admit that we in the Ham Radio world are spoilt for choice these days, so if you have a few Thousand pounds to spend on a radio I hope you make the right decision for your
new radio. I always thought yeah I'd go for the Yaesu FT-DX 101D but seeing that Elecraft well Hmmm I now feel it'd be a choice between these two. At least I did feel it would be between
those Two, Then along comes Icom with it's IC705, for me that radio checks
all
of the right boxes and even has a purpose built backpack, okay I give up.
***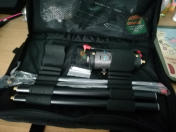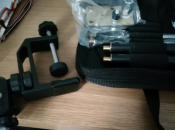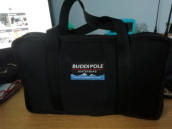 PI2NOS Update,
The Breskens

repeater has been offline for a while because the silo it was on will be taken down. they
are trying to get a location in Vlissingen to resurrect the UK receiver but have run into some difficulties that
needs to be sorted out, it will take a bit of time. They also ran with almost no tx power this summer and
limited access to locations because of this covid thing, it has been a rough year. It was only this week that
They managed to put up a new temporary transmitter in Lelystad to support the yearly balloon fox hunt,
They immediately saw a lot of happy QSO's there and that put a bit of energy back into their team.
"Changing to Dutch announcements have nothing to do with our UK friends, it was just that we got bored
with the old announcements and made a new set".
Will the London area ever be able to use PI2NOS again? yes I think so but it won't ba a quick fix
unfortunately.

I'm now working on a school
ARISS Contact.
I have recently made contact with a
local school to bring about a
contact with the ISS. I have spoken
to a few teachers about this and
they are incredibly keen for this to
happen. The school is in Dagenham
which will be a first for these
contacts. The pupils will relish this
opportunity immensely let's be
clear about that. Now all we need
to do is to make this happen.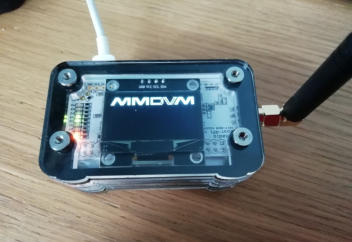 are incredible hotspots for the digital voice
modes, using the pi-star software I rate these way above the
Openspot that I also have. Openspot use their own software
that they regularly update for their LATEST version, older
versions they leave behind. Zumspots use the Pi-Star
software that many other hotspots use, that means it is
updated for all hotspots everywhere. And that OLED screen
is awesome £159.95 complete at ML&S. Take a look.
I watched a video from Peter Waters (Waters and Stanton) showing the
Buddistick Antenna and thought that's a great idea for an antenna, so my family
purchased one and am extremely pleased with it, it covers 40mtrs to 2mtrs
and have already had some great results,even though propagation isn't what
it could be, cannot wait for solar cycle 25 to really kick in. Keep an eye on
my YouTube channel (2E0IPK) I have a video coming soon with me out
portable at a park in Essex, For £185 this antenna is excellent value.
For the best Buddistick settings click here
Going Out Portable? Be Prepared.
Whatever you do, don't forget anything you
require for portable operation. It has happened
to me, I went out and left my main antenna at
home, fortunately I was only 8 miles from home.
Whatever you do make a checklist, it'll save much
grief believe me.
So, in July 2021 we had a lightning strike that took out my router and everything attached to it, and the most massive crash of
thunder I have ever heard in my life. Anyway after the nerves stopped racing everywhere I checked the damage. Sure enough it
had a burned out router, CCTV system, Sky box, Freesat box, my daughter's Playstation, My new laptop, my radio power supply
SWR meter and of course my Diamond X30 antenna. Everything now replaced, I had Waveform Arials put the new antenna up
last Monday (11th October 2021. If you live in the London, Essex or Kent area's and need an antenna erected give Waveform a
call on 01322223484 or 07948404532, I think you'll be glad you did.
··−−− · −−−−− ·· ·−−· −·−
I'd love to be out portable there